Introducing Libbie Market Online Shopping(LMOS)
LMOS allows you to purchase all of your favorite Libbie Market items online and have them delivered to your door! Either visit our website from your computer or mobile device and you are ready to let Libbie Market associates fill your shopping cart for you.
How do I get started?
LMOS makes grocery shopping fast, easy, and convenient. To start, just search or browse our store's product list to fill your cart, and don't forget to enjoy custom recommendations on new products to try. After you've used LMOS once, you will be able to quickly view past purchases for easy re-ordering. When ready to check out, you simply pay online with a credit or debit card and submit your order directly to the store. Pick a time and your purchases will be delivered to your door.
Can I trust that the food will be high quality?
Extra care will be used to fill your order with satisfaction. Instead of shopping at larger national chains, Libbie Market wants to be your grocer of choice, and we will go out of our way to provide you with the freshest, highest quality products. Start enjoying the convenience of using LMOS  today!
Order Ukrop's Cakes
Order Ukrop's Cakes for pick up at Libbie Market!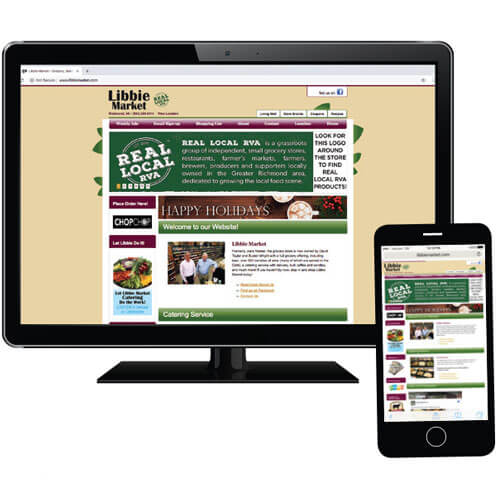 Sign Up!
Sign up for a free account on our website, or download the mobile app for iOS or Android.
View Libbie Market available items and start shopping.
Hand-Picked Quality
Take advantage of our in-store specials and sale prices when you shop online!
An expert store employee will pick the items according to your preferences (green bananas, etc.)
Convenient Delivery
Choose from available store delivery times.
Your order will be ready at the time of your choosing.