About Libbie Market
Great Food, Friendly People, Value Prices
Libbie Market grocery store is locally owned and operated in an upscale neighborhood market of Richmond, Virginia!
Known for its Prepared Meals, Bakery, Coffee Bar, and a Certified Angus Butcher shop, Libbie Market is the perfect place to shop for everyday items as well as unique artisan products. Libbie Market also offers gourmet sandwiches, freshly prepared sushi, salad bar, extensive wine and beer selections, and catering services. Libbie Market carries traditional grocery items and offers the convenience and service that only a local neighborhood market can provide.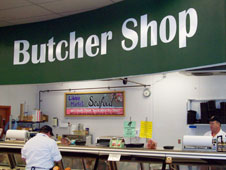 The Libbie Market Cafe, located within the store, is a small indoor/outdoor family eatery. Shoppers can select their meals from the prepared foods and then dine in the quaint restaurant area. Wine and Beer service is available in the Cafe. The Libbie Market Cafe is also the perfect spot to enjoy a cup of coffee and visit with your friends and neighbors.
Libbie Market was founded in 2010 after the Ukrop's grocery stores were purchased by Ahold-Giant and the small specialty store owned by the Ukrop family was set to close. A groundswell movement began by Richmonders who wanted to save the market. Buster Wright and David Taylor, both who were employees of Ukrops, decided to fulfill their dreams of owning the market. Soon after the agreement was made, the organizers of the "Save the Market" campaign held a party to celebrate the preservation of this Richmond tradition. The store was given a new name and was transformed into a full scale grocery store. Libbie Market remains a favorite spot for customers to shop, dine and enjoy all the offerings of a large grocery store with the convenience of an upscale neighborhood market.