Culinary Circle™
Culinary Circle offers more than 150 affordable, restaurant-quality creations in the deli, bakery, frozen and center store aisles. Including on-the-go meals, elegant hors d'oeuvres and desserts, all products are priced approximately 20 to 25 percent below casual restaurant food.
Essential Everyday®
Bringing You Innovative, National-Brand Quality at Budget Stretching Prices. Richfood is now Essential Everyday®. Look for our distinctive, new labels throughout the store and save on items you love, and new ones destined to become favorites too!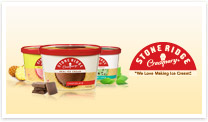 Stone Ridge Creamery®
A simple taste of any one of our forty flavors will prove there's a guaranteed smile in every scoop.
Super Chill®
Super Chill creates high-quality, refreshing beverages for all tastes. Priced well below national brands, and of equal quality, our line of beverages promise the savings you're thirsting for.
Wild Harvest®
Wild Harvest Natural and Organic products are the foods your family already enjoys — only healthier. Eating sensibly is easier with Wild Harvest's broad selection of affordable meats, dairy, snacks and basic foods all free from preservatives and manufactured additives.